Emporium Propane Delivery
Are you tired of paying high prices, delivery and hazmat fees, and having poor customer service from your current propane supplier?
Moore Propane proudly services Emporium and surrounding areas!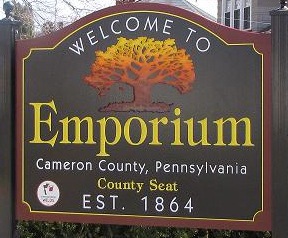 For competitive pricing and local service,
Moore Propane has the solution!
Moore Propane is a family owned and operated propane distributor located in Falls Creek, Pennsylvania.  Together we have over 200 years of combined experience in the propane industry.  We believe in keeping prices low, and have a "no-fee" delivery policy.  Unlike most of our competitors, we do not believe in adding on delivery fees, hazmat fees, or having delivery minimums.  Own your own tank?  No problem!  Moore Propane will gladly deliver.  We believe that happy customers make life-long customers and we are confident that if you try Moore Propane you will be satisfied.

The Moore Propane Advantage
Phones answered and decisions made locally.
We sell only HD-5 Grade Propane.
Moore Propane never charges any extra fees and has no minimum delivery requirement.
No emergency charges, even on weekends and holiday's!
Online Ordering available.
No lengthy contracts or credit checks.  We do business with a hand-shake and treat you like family.
We offer pre-buy, price lock-in, budget plans, and have a customer referral program.
Moore Propane is local and USA proud!
Call us at 814-299-7073 or contact us here to learn how Moore Propane can help you save, today!